Small Concession Poppers
Ideal For: Concessions, Home Theaters, Cafeterias, Rentals

Cretors small concession poppers are built with sturdy weleded stainless steel frames (excluding 6 oz. Nugget), stainless steel or nickel plated all steel kettles that will not pit or corrode. The clean-in-place kettle with lift-up lid makes cleaning a snap. The machines all have a red powder coated top that resists scratching. Heating features include an interior heat lamp and heated corn deck (excluding Nugget) to keep popcorn warm and crisp. Optional controls include salt/sweet switch to produce salted corn or sweet corn, One-Pop button that automates the popping cycle, and One-Pop with Counter that automates and records the number of popping cycles. Perfect for profit sharing programs or calucating corn usage.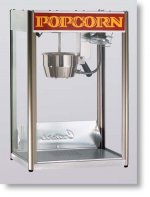 120 one ounce servings per hour. This machine is an excellent entry level popper that provides the most essential features found in a Cretors popper at an economic price.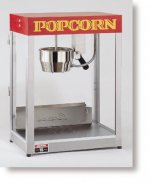 120 one ounce servings per hour. The Goldrush is our classic small popper design complete with interior heat lamp, heated corn deck and nickel-plated all steel kettle.