Large Concession - Suspended Poppers
Ideal For: Theaters, Shopping Malls, Supermarkets

Cretors designs a builds high volume equipment that outperforms other popping equipment in hard working concession areas. Cretors unique clean-in-place kettle design includes stainless steel, or nicke-plated all steel that resists corrosion, and is easy to clean. The unique lift-up kettle cover design maximizes corn expansion and profits. The direct drive kettle agitator provides longer motor life with no exposed gears to replace. Single thermostat accurately controls kettle temperature for optimum popping. The popper is equipped for an automatic oil pump, two-stage charcoal exhaust system (optioanl disposeable filter system available), and Cretors EXCLUSIVE hot air Cornditioner system that actually forces hot air through the popcorn to keep it dry and crisp. Optional controls include salt/sweet switch to produce salted corn or sweet corn, One-Pop button that automates the popping cycle, and One-Pop with Counter that automates and records the number of popping cycles.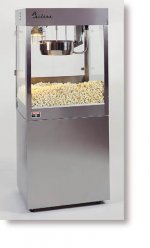 320 one ounce servings per hour. The Econo-Merchant is the best value machine for that hard-to-find mid-sized production capacity.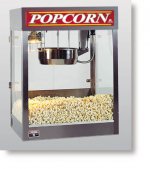 320 one ounce servings per hour. With our Merchant, the 16 ounce kettle provides more production than the 14 oz. kettle, but has the compact footprint found in the 14 ounce popper.