Large Concession - Giants with Tables
For easy back-room production, choose from these table options. Combine with Cretors Caramelizer to create a caramel corn plant! Tables are made of rust-proof stainless steel. Cretors exlusive Knock Down deisgn allows the table to be unassembled into a few simple pieces that make transporting the table easier and less expensive. The unique design allows for a second shelf to be added later to the 6' table as volume requirements increase. 50 lb. Corn drawer inlcuded, 100 lb. Corn drawer available.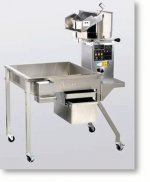 400 one ounce servings per hour. Ideal for small production needs.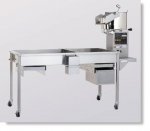 400 one ounce servings per hour. The knock down table is one of the first in the industry !