Gourmet Cooking Equipment
Ideal For: Retail Shops, Specialty Popcorn Products
Diversify your concession business to include caramel corn! Our caramelizer is a combination cooker and mixer that allows one to easily cook and mix a variety of savory and caramel flavors. Combine the caramlizer with a popper on a knock-down table, and you have a caramel corn plant ready for business! Cretors Gourmet Cooking Equipment line also includes candy stoves, Peanut Roaster, and a hot air popper that produces up to 80 lbs. of popped corn per hour.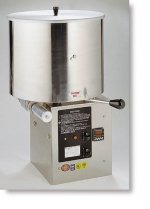 Cretors CMD 25 Cooker and Coater is designed to melt, coat and mix 5lbs of savory or caramel flavor product per hour.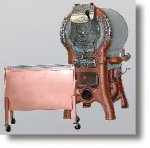 Roasts a variety of nuts, seeds and beans. Roasts up to 100 lb.